FDI flows to Africa: recent trends during COVID and future expectations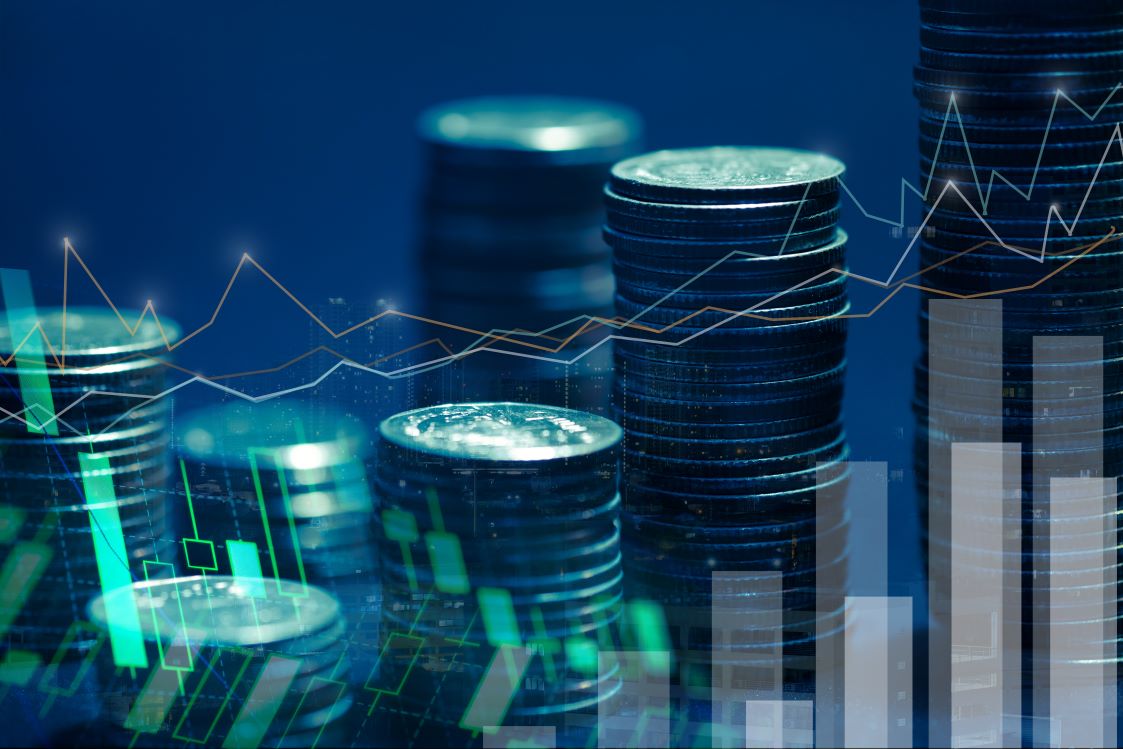 Africa posts strong foreign direct investment numbers in 2021, according to the United Nations Conference on Trade and Development
Foreign direct investment (FDI) inflows to Africa reached US$83 billion in 2021 – more than double the 2020 inflows and an all-time record for the continent. Flows to Southern Africa increased by an astonishing 895%.
Although Africa's inflows accounted for only 5.2% of global FDI, they're notably higher than the continent's 2010 to 2020 average of 3.2%, says the United Nations Conference on Trade and Development World Investment Report 2022.
This, after a 35% decline in 2020 – the first year of the COVID-19 pandemic. In 2021, world flows increased by 64% to reach US$1.6 trillion. The 2021 world inflows equal the 2017 levels, but are lower than the US$2.1 trillion record level reached in 2015.
FDI flows to Africa experienced a sharp decline in 2020 to reach a level of US$39 billion, 15% lower than the 2019 inflows. To put it into perspective – the 2020 inflows were marginally higher than the US$36 billion level reached in 2006. The recovery in 2021 is significant.
As always, the flows to Africa must be seen in perspective. The 2020 and 2021 FDI flows to Africa's five regions are shown below (US$ billion). While flows to North Africa declined by 5% and flows to Central Africa remained roughly the same, flows increased to West Africa (+48%) and East Africa (+35%).
The Southern African increase of 895% is the main reason for the substantial rise in flows to the continent. It stems from a single intrafirm share exchange between Naspers and Prosus in South Africa to the value of around US$37 billion. Should this transaction be disregarded, the flows to Southern Africa increased by approximately 25% and those to the continent by 18%, bringing the inflows for the continent to US$46 billion, equalling those of 2019.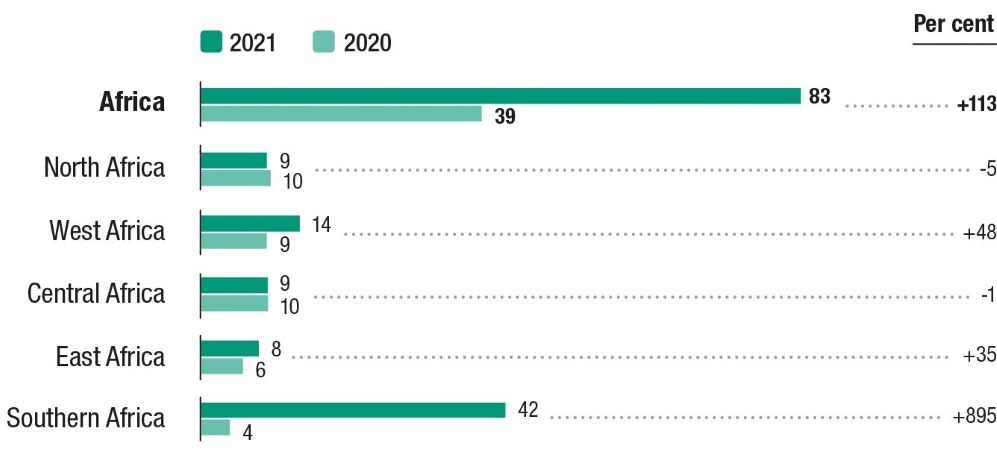 Source: World Investment Report, 2022.
The following countries experienced the most notable 2021 increase:
| | | |
| --- | --- | --- |
| | | Examples of most notable FDI inflows |
| | | Construction of transmission line to provide the United Kingdom (UK) with solar and wind energy. |
| | | New investments in oil and gas; construction of industrial venture including a refinery, airport, industrial estate and free trade zone. |
| | | Gold mining facility and cement factory in extractive industries. |
| | | Mostly greenfield projects. |
| | | Flows in offshore oil fields and mining; facility to treat municipal organic waste. |
| | | Mostly energy-renewable projects. |
| | | Nickel projects; investments in food and beverages. |
| | | New greenfield investments, i.e. the UK-based Globeleq Generation's new power plants project. |
| | | Clean energy project finance deal; greenfield project for new African campus of Vantage Data Centers. |
*Excluding intrafirm project
Source: United Nations Conference on Trade and Development, World Investment Report 2022
The only country to experience negative flows in 2021 was Zambia, due to the Glencore copper mine disinvestment and transfer to the state-owned ZCCM Investments Holdings. The eventual disinvestment will amount to US$1.5 billion and may have a negative impact on the country's economy in future.
The largest recipient countries in 2021 were South Africa, followed by Egypt, Nigeria, Ethiopia and the Republic of Congo. Ethiopia has benefited from its inclusion in China's Belt and Road Initiative. China has since 2010 been the largest single investor in Africa, followed by the United States (US), France and the UK.
fDi Insights tracks global greenfield investments and in their latest fDi Report for 2022, a notable trend towards investments in sustainable projects was highlighted. They identified 39 newly announced green transition projects in Africa during 2021, led by South Africa as the largest recipient. Other notable investments include the announcement of a US$4.4 billion utility-scale green hydrogen project in Namibia.
However, the investment climate in Africa remains challenging. According to the World Bank Doing Business report, only two African countries (Mauritius and Rwanda) are on the top 50 Ease of Doing Business list worldwide, and eight are in the top 100 (out of 190 listed). Since the continent's FDI recipients are predominantly large economies and resource-rich countries, the correlation with Ease of Doing Business indicator is weak.
The effective tax rate in Africa – now on average at 25% – is higher than the average for other developing regions (20%). This could be attributed mainly to numerous tax exemptions to attract investment, and the fact that tax is concentrated on the relatively small formal sector in many African countries.
This coupled with the risks of doing business, the continent is still seen as investment-unfriendly.
Over the past year, some progress has been made to further address the business environment. Zambia reduced the corporate tax rate to 30% and extended the 15% corporate tax rate for the hospitality sector (for hotel income and food services) through to 2022. This was to help the sector recover from the decline in business during COVID-19.
Angola introduced tax incentives in their Free Zones. Botswana announced a special tax rate of 5% for selected investors. And Mauritius introduced several tax incentives. In the past year, various African countries have adopted 17 new investment policy measures, according to the World Investment Report 2022.
At the same time though, countries such as Namibia, Burundi, Mauritius, Mozambique and South Africa have imposed certain restrictions on foreign investors on local content and on minimum thresholds to qualify for incentives. These measures were predominantly aimed at protecting local industries.
FDI flows to Africa have in the past, in line with world flows, remained sensitive to external shocks. Despite the improvement in world FDI flows in 2021, Russia's invasion of Ukraine has cast a shadow over the post-COVID economic recovery. The impact of this war on the world economy and the spill-over effects of the geo-political tensions, coupled with China's zero-COVID policy resulting in continued lockdowns, has already negatively impacted the global economy and has dampened future growth prospects.
Africa's major source countries (US, UK and European Union) of FDI have directed vast resources to support Ukraine. This, combined with substituting gas and oil imports from Russia, means that FDI to Africa from western countries will most likely decrease or at best remain flat over the next few years. However, gas- and oil-exporting countries such as Algeria and Angola could benefit from the switching of trade partners away from Russia.
China's President Xi Jinping promised at last November's Forum on China-Africa Cooperation meeting in Senegal that more investment would flow from China to Africa. It remains to be seen whether this promise will hold in the context of the slowdown in China's economic growth, or whether China will fill the gap left by the other major source countries.
Elsabe Loots is a Professor in Economics at the University of Pretoria.
---