African pathways towards COP27 and beyond

Talks at this year's meeting must recognise the impact climate change has on human security and development on the continent.
Africa's 2022 United Nations Climate Change Conference (COP27) takes place in Sharm el-Sheikh, Egypt, from Monday 7 to Friday 18 November. At this meeting, countries will show a greater sense of urgency towards more meaningful progress on a set of shared global commitments and actions.
Notably, this COP comes after the release of the Intergovernmental Panel on Climate Change Working Group II and III contributions to the Sixth Assessment Report (AR6). In the Working Group II report, released on 28 February 2022, the alarm was raised over 'levels of warming that are posing a grave and mounting threat to the wellbeing of billions of people and the health of life on the planet and … the next few years offer a rapidly closing window to realize a sustainable, liveable future for all.'
The AR6 identified several fundamental risks for ecosystems and people on the continent. These include ecosystem disruption, loss of food production, reduced economic output and increased poverty. They also include increased incidence of diseases, water and energy insecurity and threats to human settlements and critical infrastructure from extreme events.
The report findings affirm that climate variability influences human security across Africa. It is critical to make the link between climate change and the survival, livelihoods and dignity of people, as well as towards advancing peace and security.
The range of actors involved in climate change must be capacitated and funded to participate fully and optimally
COP27 offers African countries an opportunity to influence proceedings, but the extent to which this is effective will be determined by the degree to which the continent is able to unite around a set of shared commitments and objectives.
A forthcoming Institute for Security Studies (ISS) report, Africa's Positioning in Global Climate Change Negotiations: Building Agency for COP27 and Beyond, reflects on the difficulties Africa has faced in putting forward a shared agenda. This despite the continent's climate architecture made up of a range of organisations – particularly the Committee of African Heads of State and Government on Climate Change, African Ministerial Conference on the Environment and African Group of Negotiators.
Furthermore, Africa relies on the commitments of a set of influential actors to engage in transparent negotiations that deliver on commitments already made, including funding pledges towards adaptation and loss and damage, which must be on the table at this year's COP.
Africa bears the least responsibility for a warming planet – only 4% of global emissions – yet it is experiencing devastating effects from a changing climate. There is a responsibility that countries in the Global North bear towards Africa, and this must inform discussions and be addressed if the continent is to move forward and embrace a greener, more sustainable future.
To effectively drive a coherent strategy, a more holistic framing of climate change must be embedded in the negotiations
Africa's just transition hinges on it, transitioning its economies away from fossil fuel intensive industries while shifting onto renewable and lower carbon intensive economic models to unlock innovation, investment and job opportunities to achieve just and sustainable economic systems. Africa's development journey must, therefore, be underpinned by a green transition and Africa's potential as a test bed for a global low-carbon economy should remain as a key objective.
COP27 will take place in a vastly changed geopolitical environment that is seeing a re-ordering of the energy landscape with a return to fossil fuels, nuclear and natural gas options to provide the stop gap to the energy shortages that are looming. This directly threatens the Paris Agreement climate targets and sets the clock back. This is not likely to be a long-term trend as energy costs are skyrocketing while the costs of renewable options are moving in the opposite direction.
Africa's gas and other commodities, including oil reserves, however, will continue to be sought after. This is also why Africa should seize the moment to advance a more robust and unified approach to the negotiations in spite of the continent's many disparities. Africa is energy-poor, and has its own development aspirations that need to be advanced as part of a broader global transition towards a greener and more just future.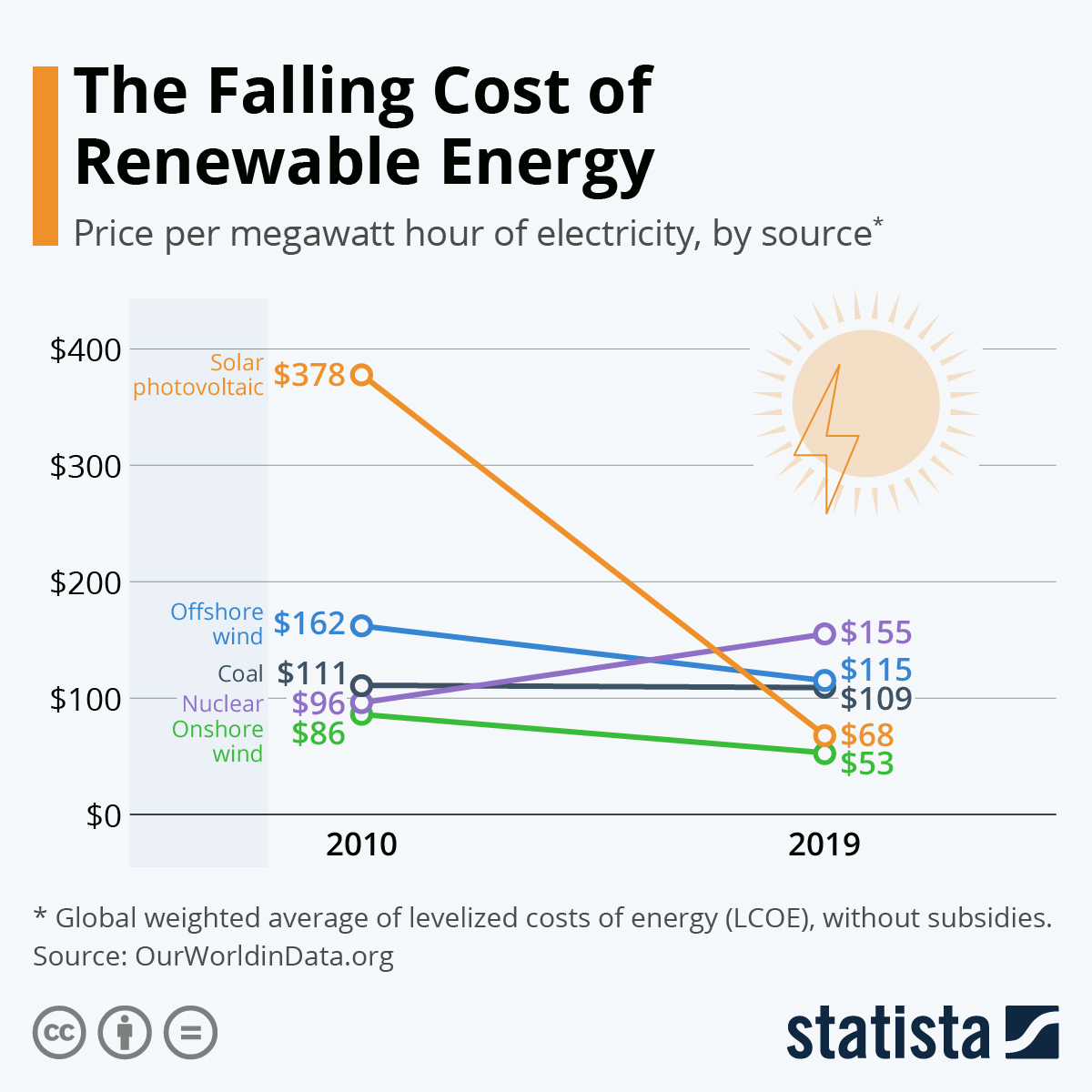 Source: https://www.statista.com/chart/26085/price-per-megawatt-hour-of-electricity-by-source/
Africa's climate diplomacy, however, continues to be hampered by the lack of representation in international forums and political institutions where climate-relevant issues are discussed, most notably the United Nations Security Council (UNSC). Under the council's Chapter VII mandate, for instance, African peace and security issues feature in 70% of the resolutions adopted.
Africa is also where the UN deploys most of its peacekeepers, and half of the ongoing UN peace operations are in countries with the highest exposure to climate change impacts. Africa has three rotating non-permanent members on the UNSC, while the major contributors to carbon emissions and those responsible for global climate change occupy permanent seats.
The structural imbalanced power relations have a direct bearing on addressing climate change and in taking more deliberate and effective action to address its multidimensional perils. A more equitable permanent representation in the UNSC by Africa and other Global South countries would increase its credibility and more effectively advance action in combating climate change.
Past levels of disunity are giving way to African countries promoting shared climate objectives
Past levels of disunity are giving way to African countries promoting shared climate objectives. For instance, the need for increased and more transparent funding with a commitment to the annual pledge of US$100 billion, and to doubling adaptation funding to US$40 billion. Also, carbon markets that work for Africa with clear rules and carbon trading returns. And strong attention to issues of loss and damage.
The Green Recovery Action Plan of the AU sets out five priority areas for emboldened action. These include improving climate finance, supporting the just transition to renewable energy, nature-based solutions and a focus on biodiversity, resilient agriculture, and green and resilient cities. The Kigali Communique outlines seven transformative actions to set Africa on a pathway to economic prosperity and net zero.
Africa needs to step up its capacity measures to drive these initiatives and to realise the gains from a green recovery. Bankable projects need to be designed to ensure investment readiness. This will require strong capacity in African states across a range of technical areas, including project management, financing, insurance and a robust legal and regulatory system and stable governance.
A range of actors play an integral part in building capacity and delivering on climate change and they will need to be capacitated and funded to participate fully and optimally. These include government, labour, the private sector and business, civil society, academia and the research community.
In its report, the ISS puts forward a series of four building blocks designed as a pyramid to drive impactful climate interventions toward COP27 and beyond.
Chart 1: Pyramid of impactful climate interventions toward COP 27 and beyond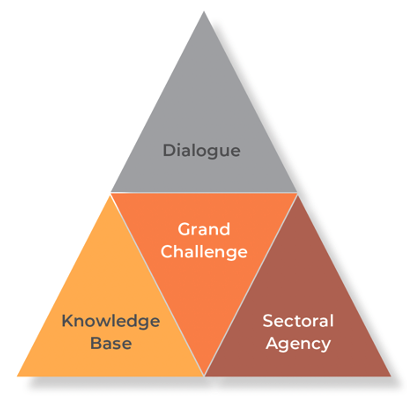 The first seeks to augment Africa's climate change knowledge base towards higher levels of climate change literacy. A second emphasises the need to develop sector agency with a focus on consolidating sectoraI implementation plans related to adaptation and mitigation, including in priority sectors like water, agriculture, energy, local government and industry.
A third building block highlights the need to developi an innovative pipeline towards ensuring adequate absorptive capacity for pledged funds like the US$100 billion committed at COP15 in Copenhagen. And finally, the fourth building block focuses on facilitating African Climate Dialogues that must continue post COP27.
To effectively drive a coordinated and coherent strategy, a more holistic framing of climate change must be embedded in the negotiations. These must recognise the impact of climate change on human security in Africa highlighted in the AR6 reports with implications for Africa's overall development outcomes and trajectory.
It is this reframing that is needed to drive more effective and urgent action. Crucially, this requires more active and coherent engagement by the continent's countries through African and global multilateral institutions.
Image: Joseph Eid/AFP
---