About
This website models potential progress towards the African Union's Agenda 2063 vision through the individual and combined impact of various scenarios modelled for each African country. The country-level forecasts are integrated and presented at regional level for the various regions such as North Africa, the eight RECs recognised by the African Union such as ECOWAS, country income groups such as the average for Africa's low-income countries and Africa as a whole. The forecast horizon is to the end of the third ten-year implementation plan of Agenda 2063 in 2043.
About Agenda 2063
The African Union's Agenda 2063 ambition is a comprehensive 50-year blueprint that aims to transform Africa into an integrated, prosperous and peaceful continent, 'driven by its citizens, representing a dynamic force in the international arena.' It consists of 20 goals encapsulated in seven aspirations and 15 flagship projects. It is being operationalised in successive 10-year plans. The first 10-year implementation plan concludes in 2023. The associated AU progress report is available here. The three main objectives of the second plan, 2024 to 2033, are: to ensure greater physical connectivity of the Continent through the construction of roads and other communication infrastructures, to establish the conditions for sufficient domestic agricultural production to reduce imports of foodstuffs and build the technical capacities to make the energy transition a success.
About this site
The website consists of a Current Path forecast and separate scenarios coinciding with the second 10-year implementation plan of Agenda 2063, starting in 2024 and concluding in 2033. We measure the impact by 2043 and sometimes by 2063. The analysis presented in this platform extends that first provided in the book Africa First! Igniting a Growth Revolution (Jonathan Ball, 2020) and the subsequent textbook The Future of Africa (Palgrave Macmillan, 2021). A revised and updated book, Africa Tomorrow, was published in August 2022 and is available as an open-access book on this website. Go to Resources on the main menu.
From October 2020 to February 2021, we hosted 15 high-level global dialogues to refine the scenarios and validate the forecasts. These sessions brought together some of the best minds globally and systematically reviewed our forecasts of Africa's likely development prospects. Then, from March 2021 to September 2021, AFI staff presented and discussed the forecasts across various platforms and events to further benchmark and improve the scenarios. It was eventually published as part of the website when it went live in June 2022. We are constantly updating both geographies and themes, and the user should check which version of IFs is used and the date published on the website.
The first version of this website modelled 11 separate scenarios for each geography. Each was associated with a separate theme and compared to the Current Path forecast. At the end of 2022, the team revised the scenario structure and delinked the themes from the scenarios to allow for a more detailed examination of some aspects. We are therefore steadily graduating to eight scenarios per geography, namely: (1) Demographics and Health/WaSH, (2) Agriculture, (3) Education, (4) Manufacturing, (5) the African Continental Free Trade Agreement (AfCFTA), (6) Technological Leapfrogging and Large Infrastructure, (7) Financial Flows, and (8) Governance. Some scenarios are, therefore, associated with two themes. An example is the Demographic and Health scenario, discussed in the Demographic and the Health/WaSH themes.
A combined Agenda 2063 scenario emulates all scenarios' combined impact, and briefly comments on progress towards the African Union's Agenda 2063 ambitions with a time-horizon to 2043. The Combined Agenda 2063 presents an optimistic upper ceiling for Africa's development prospects. Actual improvement is likely more modest. The relationship of the scenarios to one another is presented below.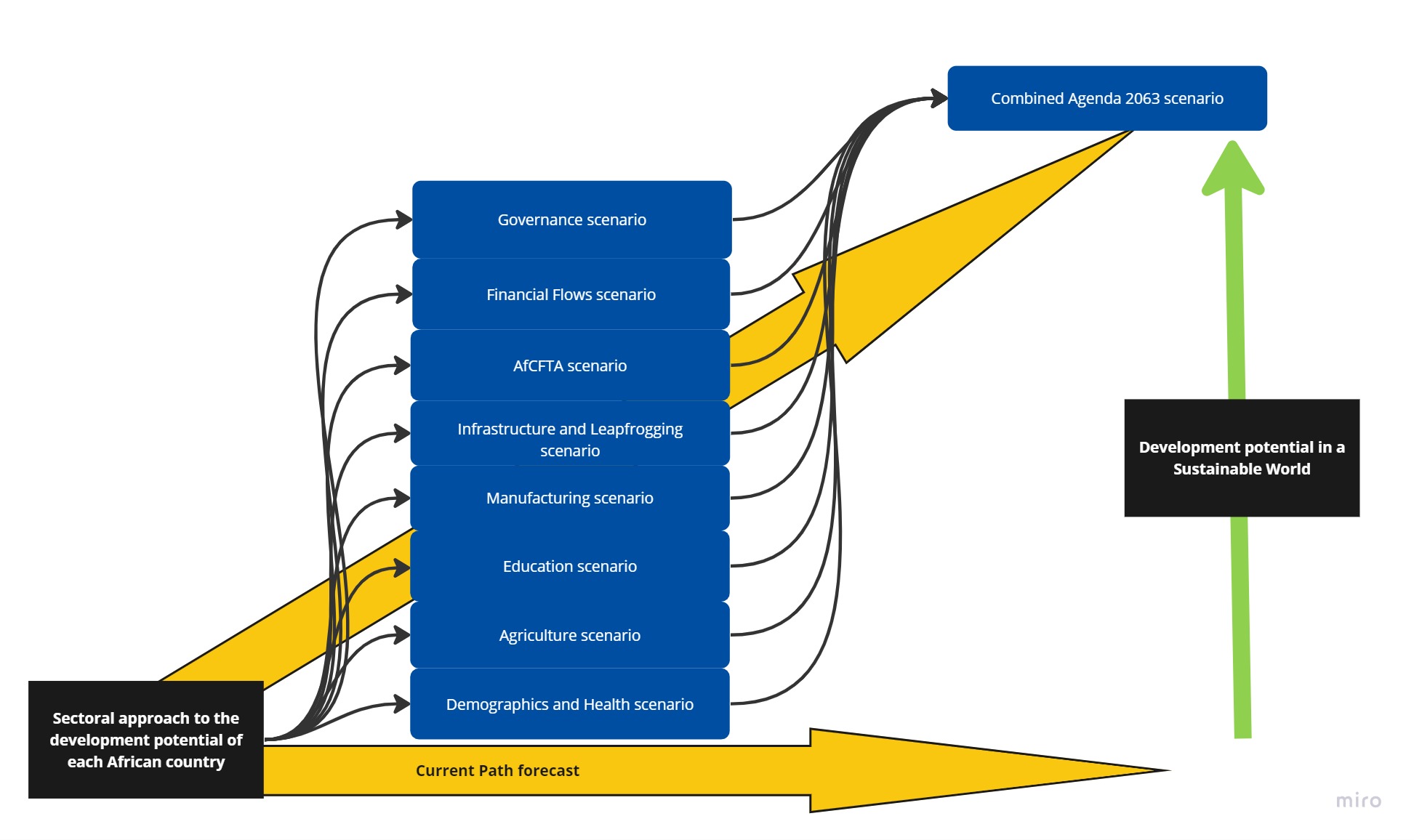 In addition, we review the future of (9) employment/jobs, the impact of (10) climate change and how (11) global developments could impact Africa's development (Africa in the World). At the end of 2023, the team will add a theme on (12) gender and development. Current work reviews and updates various aspect of the site. These revisions use updated versions of the IFs forecasting platform with more recent data, modelling improvements, and updated World Bank country groups and poverty lines as each evolves. These are indicated in the text.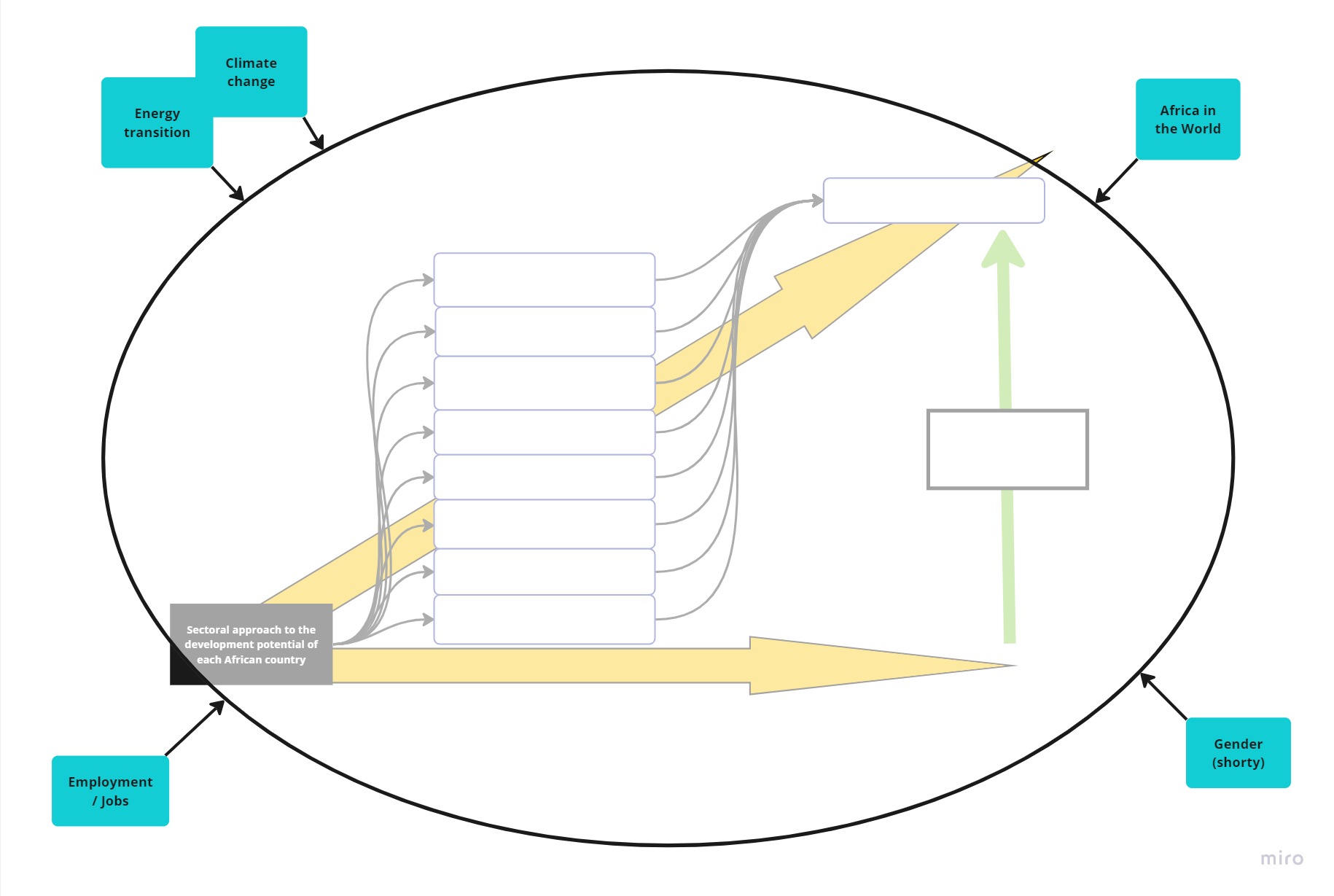 Modelling platform
The International Futures (IFs) modelling platform is developed and hosted by the Frederick S. Pardee Center for International Futures at the Josef Korbel School of International Studies, University of Denver. IFs is an integrated forecasting platform for thinking about long-term, country-specific, regional, and global development.
The IFs tool draws from multiple modelling methods and integrates them to form a series of relationships in global systems and to generate its forecasts. The model is therefore hybrid in structure that includes the use of stock-and-flow and equilibrating feedback. The scenario analysis capabilities of IFs allow users to explore the potential impact of simulated policy interventions or frame long-term uncertainty within and across development systems.
IFs forecasts development for 186 countries and their interaction, including 54 countries and territories in Africa. It blends different modelling techniques to form a series of relationships based on academic literature to generate its forecasts. IFs is therefore a dynamic, recursive system with annual time-steps. It use historical data from 1960 (where available) to identify trends and produce a 'Current Path' scenario from 2017 (the current base year) to 2100. The Current Path scenario (or Base Case) is, therefore, a result of dynamic interactions across key systems based on prevailing policies and environmental conditions rather than a linear extrapolation of trends.
Currently, IFs is one of the few global modelling platforms capable of projecting SDG achievement across all SDGs at the country level, and has been widely used in analysis of African development. Collectively, the IFs platform projects more than 700 variables of which more than 100 represent goals and targets of the SDGs.
The data series within IFs (more than 5 500 series integrated within it) come from a range of international sources like the World Bank, International Monetary Fund (IMF), World Health Organization (WHO), various United Nations (UN) bodies like Food and Agricultural Organization (FAO) and United Nations Population Fund (UNPF), etc. Although international organizations commit significant resources towards updating data, it often lags behind the current year. Because IFs produces forecasts that move beyond a linear extrapolation, its forecasts have historically been comparable to the data that is ultimately released by international organizations. Where possible and where data is available and comparable, we replace the international data in IFs with national statistics sourced from national data providers. This is, however, labour intensive and only possible when doing extended analysis on a specific country or region.
The IFs model integrates forecasts for different sub-modules, including population, economy, agriculture, education, energy, governance, international politics, environment, technology, infrastructure, and health, etc. These sub-modules are dynamically connected, so the model simulates how changes in one system lead to changes in all other systems. As a result, IFs endogenizes more relationships from a wider range of key global systems than any other model in the world. Below is a visual representation of the major sub-modules in IFs followed an explanation of some.
Link to interactive bubble diagram of International Futures model
The Economic module in IFs
The economic representation within IFs is a global, annually recursive dynamic general equilibrium model, integrated extensively with all other modules. It combines country-specific and globally-linked Social Accounting Matrices (SAM) with structures that generate their dynamics. Three significant features differentiate IFs from most other models with these characteristics. First, the representation in IFs of economic growth is responsive to an unusually extensive set of productivity drivers, as well as to capital and labour. Second, the social accounting system of IFs has an especially extensive representation of government revenues and expenditures. Third, IFs elaborates general equilibrium treatment of the economy with extended partial equilibrium representations of agriculture and energy, with representation of the informal economy, and with elaborated formulations of income inequality and poverty.
On the input side, variables from almost all other modules within IFs affect production levels while on the output side, the levels of GDP and GDP per capita are crucial for almost all other modules. The module also includes the informal economy. The economic model draws on both the classical tradition's focus on economic growth (with great attention to the newer work on endogenous growth theory) and the neoclassical perspective's general equilibrium approach. The supply side of the economic model is based on the Cobb-Douglas production function which uses labour, capital, and multifactor or total factor productivity (MFP) as the primary drivers of economic growth. Capital stock (K) is a function of investment and depreciation rates, labour supply (LABS) is determined from population and endogenously derived labour force participation rates. Multifactor or total factor productivity in the economic module is determined by human capital (education and health), social capital (governance effectiveness, corruption, and economic freedom), physical capital (infrastructure) and knowledge capital (R&D). The production function is embedded in a six-sector model of the economy featuring agriculture, raw materials, energy, manufactures, services, and information and communication technology (ICT) that balances domestic demand and trade in a general equilibrium-seeking structure. Production and consumption of goods and services are in turn incorporated into a larger SAM, which represents the behaviour and financial interaction of households, firms, and government. As in many computable general equilibrium models, the behaviour of agents within this system is not fixed. For example, variations in the levels of government debt trigger different patterns of government expenditures and revenues in the model, with effects on spending on education and infrastructure, etc. that in turn affect economic growth.
Poverty in IFs rely upon a) economic production/consumption models; b) resource distribution; and c) demographic dynamics. Economic production is driven by a dynamic-recursive computable general equilibrium model with Cobb- Douglas production function and Solow residual. The model assumes a log-normal income distribution and uses a measure of Gini-coefficient for income inequality to drive changes in distribution across time. Poverty values are initialized from PovCalNet at the World Bank.
For more technical information on the IFs economic module including poverty see:
https://pardeewiki.du.edu/index.php?title=Economics
The Infrastructure module in IFs
IFs distinguish between 'core' and 'other' infrastructure. Core infrastructure refers to roads, electricity generation, improved water and sanitation, and ICT. Other infrastructure refers to railroads, ports, airports. The IFs infrastructure model forecasts mainly developments in physical infrastructure such as road density, electricity access, irrigation systems and access to water and sanitation. Access to water is divided into unimproved, improved (other) and piped water access. Similarly, access to sanitation is divided into three categories: unimproved, shared and improved. Projections over time for access to water and sanitation are determined by an expected demand for access to safe water and sanitation, which is driven by general levels of development approximated by GDP per capita and average education years of the adult population, and further informed by information on government spending (percent of GDP going to health), and the share of the population living in urban areas. Together this constitutes the expected level of safe access to water and sanitation, which informs the government spending required to invest in infrastructure to improve access to safe water and sanitation. Not in all cases will the expected demand be met by the required financial government resources, limiting the overall rise in access to safe water and sanitation. Access to electricity over time is a function of changes in population and household size, changes in urbanization rates and changes in government effectiveness and poverty levels. Access to electricity is separately forecasted for rural and urban communities, but given historic patterns in development, the model assumes that urban electricity is always equal or higher than rural electricity access. Changes in infrastructure access affect economic growth through its effect on productivity. In addition, changes in some infrastructure indicators are also linked to health and food security, with access to water and sanitation being an important driver of child health and child undernourishment and stunting.
For more technical information on the IFs infrastructure model see:
https://pardeewiki.du.edu/index.php?title=Infrastructure
The Agriculture module in IFs
The IFs agricultural model tracks the supply and demand, including imports, exports, and prices, of three agricultural commodities: crops, meat, and fish. Crops, meat and fish have direct food, animal feed, industrial and food manufacturing uses. The agricultural model is also where land use dynamics and water use are tracked in IFs, as these are key resources for the agricultural sector. Like in the economic model, the agriculture model combines a growth process with a partial economic equilibrium process using stocks and prices to seek a balance between the demand and supply sides. As in the economic model, no effort is made in the standard adjustment mechanism to obtain a precise equilibrium in any time step. Instead stocks serve as a temporary buffer and the model chases equilibrium over time. In the IFs model, agricultural production is a function of the availability of resources such as land, livestock, capital, and labour, as well as climate factors and technology. Technology is most directly seen in the changing productivity of land in terms of crop yields, and in the production of meat relative to the input level of feed grain. The model also accounts for lost production (such as spoilage in the fields or in the first stages of the food supply chain), distribution and transformation losses and consumption losses (which account for food lost at the household levels) which are all determined by average income. Agricultural demand depends on average incomes, prices, and a number of other factors. For example, changing diets can affect the demand for meat, which in turn affects the demand for feed crops. The industrial demand for crops, some of which is directed to the production of biofuels, is also affected by energy prices. For more technical information on the IFs agriculture model see:
https://pardeewiki.du.edu/index.php?title=Agriculture
The Governance module in IFs
The IFs governance module forecasts three governance dimensions around capacity, inclusiveness and security. Government security is driven by state fragility, and the risk of internal conflict. Effects of government security operate primarily through economic and demographic pathways through the contribution of social capital to economic growth and patterns of mortality and migration. In the model, corruption is one of the most powerful determinants of government capacity and governance effectiveness as well as accountability.
Corruption/transparency is a function of the level of development (GDP per capita), Gender Empowerment/gender equality, democracy, and the dependence of a country on exports of energy (less-powerful but still-significant). These variables collectively account for nearly 80% of the cross-country variation in corruption in the most recent year of data as measured by the Transparency International index of corruption perceptions (CPI).
For more technical information on the IFs governance model see:
https://pardeewiki.du.edu/index.php?title=Governance
The Education module in IFs
The IFs education module forecasts development at the country level on educational attainment of adults, and educational graduation rates of of-age children. The module projects students' progress from primary to tertiary education, disaggregated by sex, driven by changes in demographics, the economic module and government investment in education. The IFs model forecasts both education quantity (the number of students enrolled), and indicators of education quality (test scores on math, science and reading). From primary education, students move through the education system towards lower secondary, upper secondary and tertiary based on transition rates between education levels, graduation rates for each level, and dropout and re-entrance rates within each level. Spending on education is a function of changes in GDP per capita, changes in demand based on children of eligible age and government spending. In the IFs model, education affects economic growth through its effect on productivity, and the population through its effect on fertility rates.
For more technical information on the IFs education model see:
https://pardeewiki.du.edu/index.php?title=Education
The Demographic module in IFs
The IFs demographic module uses an age-sex cohort distribution and forecasts demographic changes based on births, deaths and migration patterns. The IFs population projections are based on two dominant flows, fertility determining the inflow of newly born on a yearly basis, and mortality, determining the outflow of deaths on a yearly basis. As such the population in a single year is a function of last year's population, plus the influx and outflux from births, and deaths. In addition, IFs forecasts migration using a push-pull logic. The total fertility rate, the number of children that the average woman will bear throughout her life, generally decreases in the long run as deep or distal drivers such as GDP per capita (from the economic model) or formal years of education of adults (from the education model) increase. Other determinants of fertility rates in the model are infant mortality rates and contraception usage. The health model of IFs determines infant mortality rates.
For more technical information on the IFs demographic and health models see:
https://pardeewiki.du.edu/index.php?title=Population
Groups, US$ and maps
Where required US$ numbers from IFs have been converted from 2011 US$ to 2017 US$ values at a rate of 1:1.09 from US Inflation Calculator. That was required in IFs versions 7.84, 7.92 and 7.96 used on the website. IFs version 8.06 and onward used 2017 US$ values.
Countries are not removed from the groups they are being compared to. For example, Mozambique remains part of low-income Africa when compared to this group.
This website uses the 2021/22 World Bank country income group classification for all analysis done using IFs 7.84, 7.92 and 7.96. These are as follows:
Low-income Africa consists of the following 23 countries: Burkina Faso, Burundi, Central African Republic, Chad, DR Congo, Eritrea, Ethiopia, The Gambia, Guinea, Guinea Bissau, Liberia, Madagascar, Malawi, Mali, Mozambique, Niger, Rwanda, Sierra Leone, Somalia, Sudan, South Sudan, Togo, Uganda
Low middle-income Africa consists of the following 23 countries: Algeria, Angola, Benin, Cameroon, Cape Verde, Comoros, Republic of the Congo, Côte d'Ivoire, Eswatini, Djibouti, Egypt, Ghana, Kenya, Lesotho, Mauritania, Morocco, Nigeria, São Tomé and Príncipe, Senegal, Tanzania, Tunisia, Zambia, Zimbabwe
Upper middle-income Africa consists of the following seven countries: Botswana, Equatorial Guinea, Gabon, Libya, Mauritius, Namibia, South Africa
High-income Africa consists of Seychelles
All analysis done using IFs 8.06 and higher uses the 2024 country income groups and this is indicated in the text as appropriate. In Africa Guinea and Zambia changed in their WB categories from 2023 to 2024.
Regions in Africa are as follows:
Central Africa: Angola, Cameroon, Central African Republic, Chad, DR Congo, Republic of the Congo, Equatorial Guinea, Gabon, São Tomé and Príncipe
East Africa: Burundi, Comoros, Djibouti, Eritrea, Ethiopia, Kenya, Rwanda, Somalia, Sudan, South Sudan, Tanzania, Uganda
North Africa: Algeria, Egypt, Libya, Mauritania, Morocco, Tunisia
Southern Africa: Botswana, Eswatini, Lesotho, Madagascar, Malawi, Mauritius, Mozambique, Namibia, Seychelles, South Africa, Zambia, Zimbabwe
West Africa: Benin, Burkina Faso, Cape Verde, Côte d'Ivoire, The Gambia, Ghana, Guinea, Guinea-Bissau, Liberia, Mali, Niger, Nigeria, Senegal, Sierra Leone, Togo - equivalent to ECOWAS
Sub-Sahara Africa consists of the countries of East, Southern, Central and West Africa
Africa includes all 54 countries but excludes Western Sahara, for which data was not available. As from IFs version 8.06, Africa includes Western Sahara as a 55th country.
Regions in the rest of the world are as follows:
South America: Argentina, Bolivia, Brazil, Chile, Colombia, Ecuador, Guyana, Paraguay, Peru, Suriname, Uruguay and Venezuela
The composition of the eight regional economic communities that are included in this site is as follows:
AMU: Algeria, Libya, Mauritania, Morocco, Tunisia
CEN-SAD: Benin, Burkina Faso, Cape Verde, Central African Republic, Chad, Comoros, Côte d'Ivoire, Djibouti, Egypt, Eritrea, The Gambia, Ghana, Guinea, Guinea Bissau, Kenya, Liberia, Libya, Mali, Mauritania, Morocco, Niger, Nigeria, São Tomé and Príncipe, Senegal, Sierra Leone, Somalia, Sudan, Togo, Tunisia
COMESA: Burundi, Comoros, DR Congo, Djibouti, Egypt, Eritrea, Ethiopia, Eswatini, Kenya, Libya, Madagascar, Malawi, Mauritius, Rwanda, Seychelles, Somalia, Sudan, Tunisia, Uganda, Zambia, Zimbabwe.
EAC: Burundi, DR Congo, Kenya, Rwanda, South Sudan, Tanzania, Uganda
ECCAS: Angola, Burundi, Cameroon, Central African Republic, Chad, DR Congo, Republic of the Congo, Equatorial Guinea, Gabon, Rwanda, São Tomé and Príncipe
ECOWAS (similar to West Africa): Benin, Burkina Faso, Cape Verde, Côte d'Ivoire, The Gambia, Ghana, Guinea, Guinea-Bissau, Liberia, Mali, Niger, Nigeria, Senegal, Sierra Leone, Togo
IGAD: Djibouti, Eritrea, Ethiopia, Kenya, Somalia, Sudan, South Sudan, Uganda
SADC: Angola, Botswana, Comoros, DR Congo, Eswatini, Lesotho, Madagascar, Malawi, Mauritius, Mozambique, Namibia, Seychelles, South Africa, Tanzania, Zambia, Zimbabwe
Maps: Borders and delimitations follow international practice. Disputed borders are indicated in red.
Poverty lines: The analysis done using IFs version 7.84, 7.92 and 7.96 on this website uses the World Bank extreme poverty lines of US$1.90 for low-income countries (and to measure progress towards the 2030 Sustainable Development Goals), US$3.20 for low-middle-income countries, US$5.50 for upper-middle-income Africa and US$22.70 for high-income countries. All are defined in 2011 US$ prices. In May 2022, the Bank announced that it would use US$2.15 in 2017 prices as the new international poverty line (to measure progress towards the Sustainable Development Goals) instead of US$1.90. Instead of the previous US$3.20 for low middle-income countries, the adjusted poverty line is now $3.65, and $6.85 for upper middle-income countries (instead of $5.50 in 2011 prices). The Bank has not yet announced the new poverty line for high-income countries, previously set at $22.70 in 2011 prices. We use the updated poverty lines for all analysis done using IFs 8.06 and more recent versions.
Carbon vs CO2: Carbon emissions are presented in billion or million tons of carbon, not CO2 equivalent. It, therefore, consists of the mass of the carbon component of each greenhouse gas.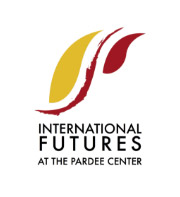 The International Futures (IFs) model is an open-source tool. For more information, and to download it for free, go to: https://korbel.du.edu/pardee/international-futures-platform. IFs is constantly updated and sequential versions are indicated for download.
Our team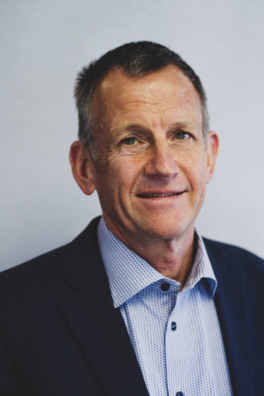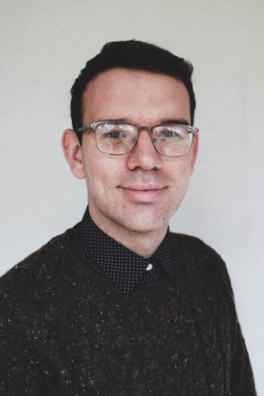 Du Toit McLachlan
Mr Du Toit McLachlan joined the ISS in February 2021 as an extern from the Auwal Socio-Economic Research Institute (ASRI). Du Toit holds an honour's degree in international relations from the University of Pretoria and is the AFI website manager.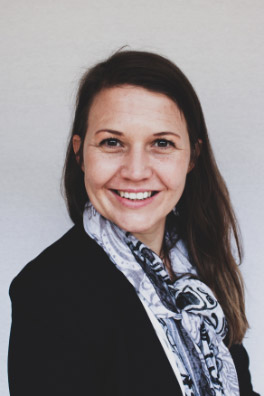 Alize le Roux
Ms Alize le Roux joined the AFI in May 2021 as a senior researcher. Before joining the ISS, she worked as a principal geo-informatics researcher at the CSIR, supporting various local and national policy- and decision-makers with long-term planning support. Alize has 14 years of experience in spatial data analysis, disaster risk reduction and urban and regional modelling. She has a master's degree in geographical sciences from the University of Utrecht, specialising in multi-hazard risk assessments and spatial decision support systems.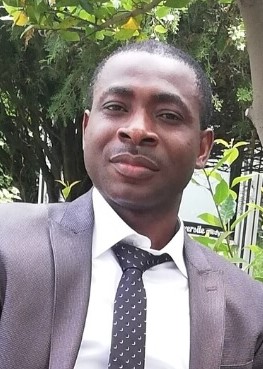 Kouassi Yeboua
Dr Kouassi Yeboua is a senior researcher in African Futures and Innovation programme in Pretoria. He recently served as lead author on ISS studies on the long-term development prospects of the DR Congo, the Horn of Africa, Nigeria and Malawi. Kouassi has published on various issues relating to foreign direct investment in Africa and is interested in development economics, macroeconomics, international economics, and economic modelling. He has a PhD in Economics from Marmara University, Istanbul.
Enoch Randy Aikins
Mr Enoch Randy Aikins joined the AFI in May 2021. Before that, Enoch was a research and programmes officer at the Institute for Democratic Governance in Accra. He also worked as a research assistant (economic division) with the Institute for Statistical Social and Economic Research at the University of Ghana. Enoch's interests include African politics and governance, economic development, public sector reform, poverty and inequality. He has an MPhil in economics from the University of Ghana, Legon.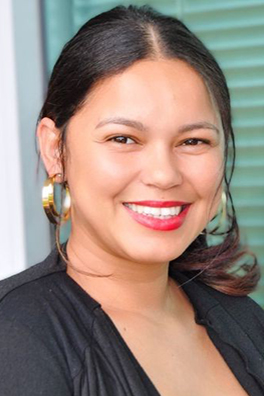 Judith Wessels
Ms Judy Wessels joined the ISS in April 2022 as a Programme Officer for the African Futures and Innovation Programme in Pretoria. Before joining the ISS, she worked as a project administrator focusing on eco-inclusive enterprise development and capacity building. Judy has ten years of administrative and financial work experience. She has a bachelor's degree in economics from the University of South Africa.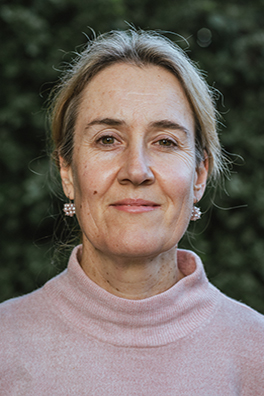 Tamzin Hudson
Ms Tamzin Hudson has a Bachelor's degree in International Relations from the University of the Witwatersrand, an Honours degree in Political Science and a Master's degree in International Studies from the University of Stellenbosch. She started her career in diplomacy working for South Africa's Department of Foreign Affairs. At the National Democratic Institute, her focus was on women's political participation and deepening and expanding democratic processes. More recently, she worked as manager for policy and advocacy, responsible for African operations with Habitat for Humanity International, with expertise in land reform and tenure practices informality and the urban transition.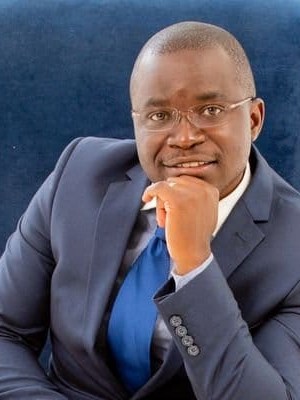 Blessing Chipanda
Dr Blessing Chipanda joined the African Futures and Innovation (AFI) programme in January 2023. Before joining the ISS he worked as an assistant lecturer/ research assistant at the University of Pretoria, Department of Economics. He is particularly interested in tasks within the wider realm of international trade, development economics, public policy, monetary policy, and econometric modelling. Equally interested in economic and socio-economic activities that impact social welfare. Blessing has a PhD in economics from the University of Pretoria, South Africa.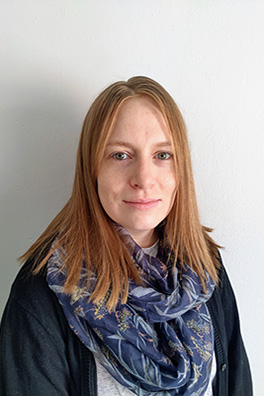 Stephanie Brough
Stephanie Brough is an accredited text editor (English) with over ten years' experience editing a variety of English content including humanities and law journal articles, English language teaching textbooks, reports and website content. She has a master's degree in applied linguistics and English
language teaching from the University of Nottingham.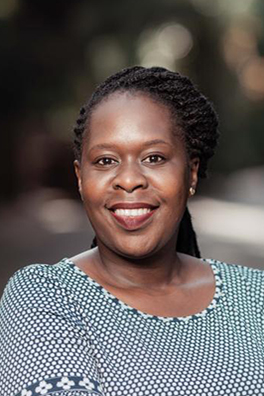 Priscillah Jurua
Priscillah Jurua has been involved with the AFI project since September 2021 as the website co-ordinator. She has an extensive background in web design, development, administration and digital marketing. She holds a Msc Information Systems and Management from the University of Manchester as well as a Bachelors of Information Technology from Makerere University. She is passionate about the creative use of web technologies in the dissemination of information which facilitates decision making.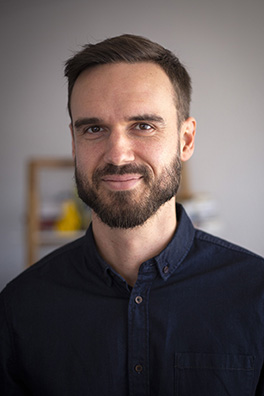 Matthew Griffiths
Matthew is an independent visual artist and content creator who is responsible for the video material on this website. He collaborates with clients to synthesise their important messages into visual mediums such as motion graphic videos, documentaries and graphic designs. Matthew has a passion for meaningful storytelling and its ability to have a positive impact on the world.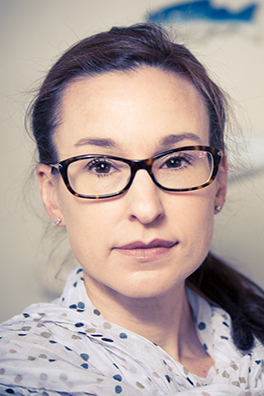 Angela Voges
Angela Voges is a freelance development editor, copy-editor, production editor and proofreader in trade (fiction and non-fiction), academic and law publishing, for book publishing houses. She has written and co-written twenty-seven titles for South African schools and TVET colleges, and overwrites manuscripts for content, structure and language level, often honing text to the needs of second-language readers. She has an MA in English from the University of Cape Town, and is a member of the Professional Editors' Guild (PEG), the Southern African Freelancers' Association (SAFREA) and the Academic and Non-fiction Authors' Association of South Africa (ANFASA).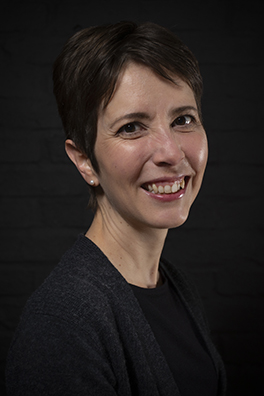 Linda Pretorius
Linda Pretorius is an independent editor and proofreader and has worked on educational, trade, scholarly and corporate publishing projects since 2008. She specialises in content editing of science- and analysis-based material, with a keen focus on ensuring logical flow, accuracy and readability. Linda holds a PhD in Biosystems from the University of Pretoria and is a member of the Professional Editors' Guild.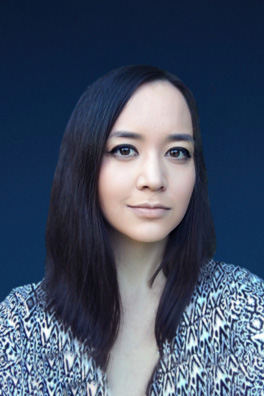 Ichizu Wakabayashi
Ichizu is a project manager at Helios Design and is responsible for the design of the African Futures website. She is enthusiastic about user experience design, digital marketing ecosystems and design strategy. She is a certified IBM Enterprise Design Thinking Practitioner and has a bachelor's degree in Business Management, Marketing and Business Communications from Bond University Australia.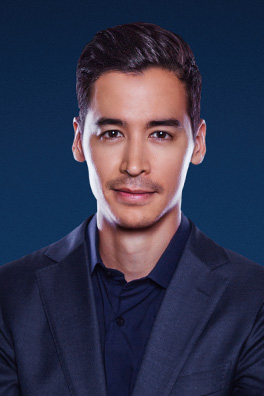 Taka Wakabayashi
Taka is a lead developer at Helios Design and is responsible for the creation of the CMS backbone of the African Futures website. He specializes in sophisticated backend website development with a specific focus on cybersecurity. Taka completed his Internet Development studies at CTI South Africa.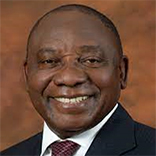 "The website will greatly enrich public discourse and policy making and contribute to a better understanding of how Africa can harness its vast resources and extensive energies in the cause of common prosperity."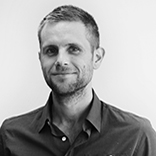 "In a time of both 'information overload' and 'post truth politics' the ISS African Futures site is a great place to stay updated on developments across Africa. As it is constantly updated, it provides us with a relevant tool and a valuable addition to more in-depth reports and historical publications."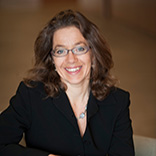 "A remarkable source of data and analysis that builds upon the analysis presented in The future of Africa and the numerous country studies that the team has undertaken. An incredible guide to unlock Africa's future potential."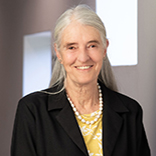 "What are the opportunities and challenges for development and wellbeing in Africa? Cilliers and his team provide thought-provoking, evidence-based analyses and recommendations, constantly updating the various scenarios with new data to measure progress towards Agenda 2063. This is an impressive project that offers valuable insights to policymakers and scholars, and anyone interested in the future of the continent."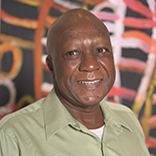 "The analysis presented on this site suggests that the future lies in Africa's ability to seize the significant opportunities opened up by its youthful population, new technologies and infrastructure innovation. Jakkie Cilliers and his team build upon their long experience in analysing Africa. An essential resource for those interested in Africa's development."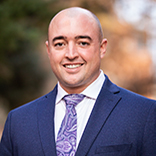 "Qualitative tools, like the International Futures model, provide insights into a range of interacting dynamics across issue areas that impact human development and help us plan and better shape and think about how the future unfolds."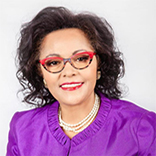 "The website provides information that is vital and will enhance our planning for the coming decade and forecasting that will help us to deliver accelerated results-based implementation as we cannot do business as usual."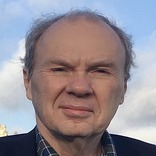 "Jakkie Cilliers and his ISS team's study on the future of African in the World is a model for anyone who aspires to contemplate in a systematic and comprehensive way the future, not just for Africa, but other regions of the world. The ISS team has managed to weave together the external global trends with those inside Africa to depict key scenarios for all of Africa as well as individual African states, showing the political, economic, technological and social implications."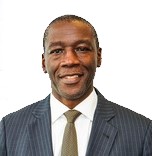 "Economic development is all about strategic investments today that shape tomorrow. Africa Futures affords development practitioners an indispensable tool to rationalize investments, respond to shocks and map future development pathways."
Our partners
Institutionally, the support for our work on the future of Africa has come from the Hanns Seidel Foundation in Germany and the Swedish International Development Cooperation Agency (SIDA). Both have allowed AFI freedom in pursuit of our priorities, offering ongoing support and encouragement along the way. In addition, a number of project donors supported country studies, particularly the Government of the Netherlands. Individual country reports have also been funded by USAID, Irish Aid and United Nations Development Programme. During the course of our work we have collaborated and drawn expertise from a large number of African governments, academics and African thinktanks including with AUDA-NEPAD.
The work of AFI also benefits financially from the members of the ISS Partnership forum which additionally includes the European Union, Government of Denmark, Government of Ireland, Government of Norway and the Open Society Foundations. See here for more details on ISS partners and funders, as well as for the governance structures and annual reports of the Institute.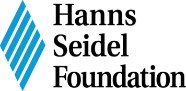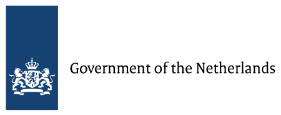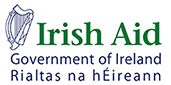 Reuse our work
All visualizations, data, and text produced by African Futures are completely open access under the Creative Commons BY license. You have the permission to use, distribute, and reproduce these in any medium, provided the source and authors are credited.
The data produced by third parties and made available by African Futures is subject to the license terms from the original third-party authors. We will always indicate the original source of the data in our documentation, so you should always check the license of any such third-party data before use and redistribution.
All of our charts can be embedded in any site.
Title
Source: